New to the site and glad that it was found, I am from Boyertown Pa. and have been on GLs from 1979 to now, I started out with a used 77 and after 98k miles I picked my first used 85, had 63k on it when I was T boned in a intersection, the bike took all of the hit and was no longer. The next 85 was used with 2k on it, I picked it up in 1992 and sold it with 165k in 2008. found a 86 with 63k and am starting to get it ready for a east to west coast ride this September. That is me for now hope, to be of help if I can and will be asking for info from you all. be safe and thanks **==
bluewing
Super Moderator


Posts: 2,709
Joined: Jan 2007 Location: Bike:
Welcome to the site from Baltimore Ontario.
Ride safe have fun and enjoy. Lane
1985 Aspencade
2002 Vulcan
Welcome from Southwest Arkansas
Bryce
85 Interstate Wineberry Red
86 Interstate Denuim Blue Metalic
Welcome to the site from Northeast Mississippi.
Keener
Super Moderator


Posts: 1,143
Joined: Dec 2008 Location: Calgary, AB, Canada Bike: 1984 Aspencade
And another welcome. This time from the west side of Canada.
Ian
Remember, it's the journey, not the destination, that matters
.
kwatts
Senior Member


Posts: 342
Joined: May 2008 Location: Sheridan, WY - USA Bike: 85 Interstate - Wineberry
Welcome from western South Dakota!
Sgt Dave
Senior Member


Posts: 353
Joined: Jan 2007 Location: Canton Georgia USA Bike: 1984 Interstate, Pearl Siren Blue
Hey there from North Georgia...I think you will find lots of friendly folks with a wealth of experience on this site.
Remember, No matter where you go...There you are!
Here is where I have ridden my 1984 GL1200I
I completed the lower 48 states in August 2009, riding the whole way with my Dad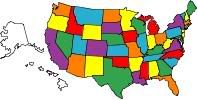 Users browsing this thread: 1 Guest(s)